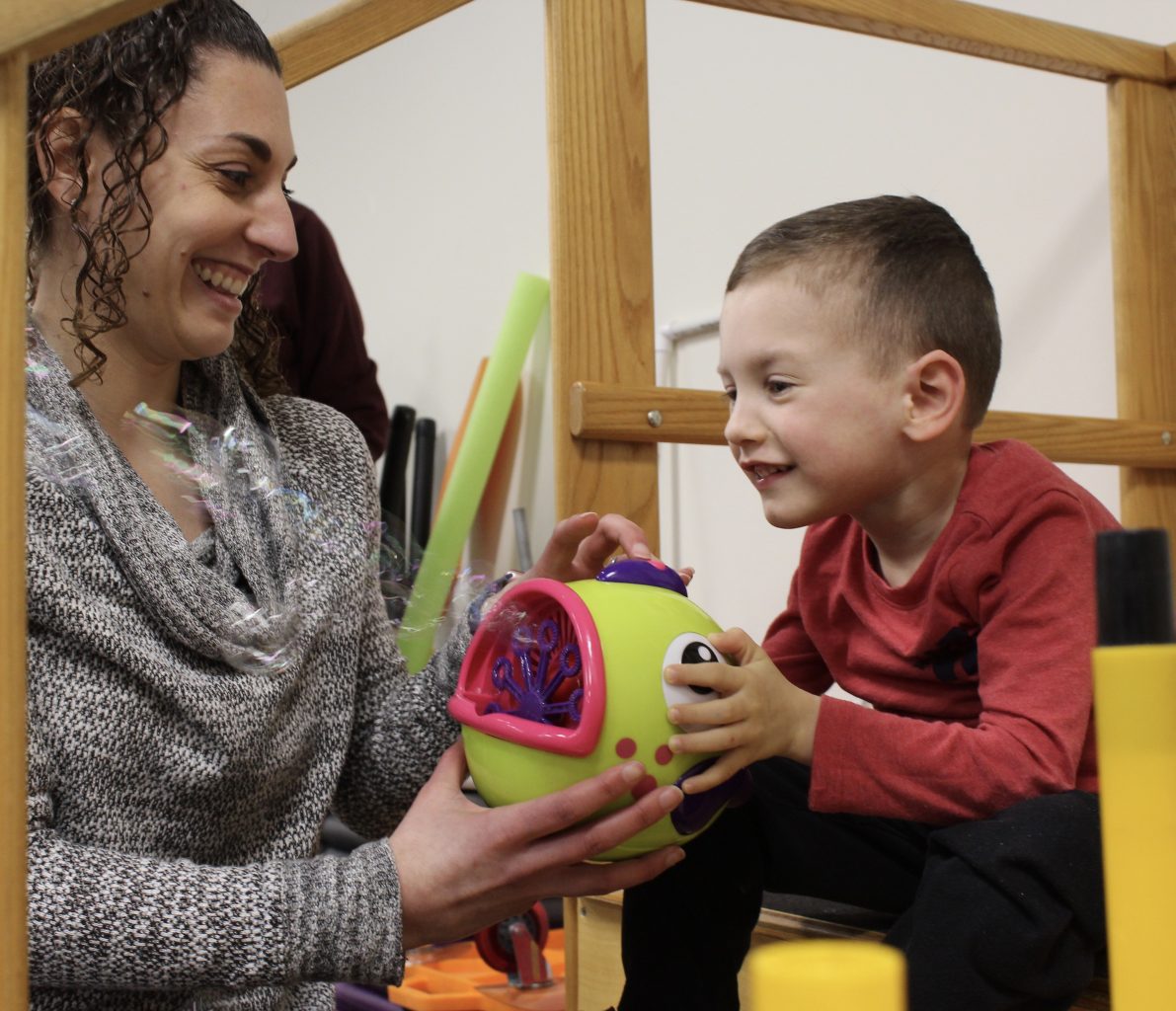 At Cheshire Fitness Zone (CFZ), our goal is to help children and adolescents of all ages feel confident in growing their abilities through therapeutic programs that strengthen and teach new skills for use in everyday life.
Our Services
Our monthly "Employee Spotlight Series" offers a chance to meet members of the team and learn about their experience working with children.
Meet Amanda Morgan, DPT
Amanda has been with Cheshire Fitness Zone since 2012 after completing her clinical rotation here.
Can you describe what a typical day working at CFZ is like?
A typical day working at Cheshire Fitness Zone is unique, in that, some days I am here just at the clinic and other days I'm at the schools and then other days, I am treating at the pool for aquatic physical therapy. Each day is unique in that it has its own set of challenges and different patients of different ages and various diagnoses and with that comes the responsibility of coming up with different treatment plans and strategies in order to help them meet their goals and have fun while doing so.
How did you know you wanted to work with kids?
Once I decided I wanted to pursue a career in physical therapy, I knew right away that I wanted to work in the pediatric population because of my love for children. I knew that I could be part of helping them grow and develop. During my clinical in school, including one here at Cheshire Fitness Zone, it only reaffirmed my interest and passion to want to work with children.
What is your favorite part about your job?
My favorite part about this job is being able to watch the children meet their motor milestones. So for example, being able to stand or walk for the first time by themselves. It is just so rewarding to see that I had a part in helping them meet their goal and especially after they've done so hard with their work and practiced so hard to get where they needed to be. I also really love that I can establish relationships with the parents and caregivers, which is really unique to the pediatric population. A lot of times, I am working with these children from infancy to early childhood and it is just so nice to be able to watch them grow and develop over the years.
What are three words to describe you and why?
I would first describe myself as passionate because I truly love coming to work each day and I love working with the patients that I currently work with and I want to be able to do everything that I can do to help maximize their functional potential and meet their goals. I would also describe myself as patient because working in the pediatric population, its important for me to display this quality because some kids may take a little bit more time to understand or practice new skills and I want to be able to support them so that they can meet their goals. Lastly, I would describe myself as creative. I think that this is a really important quality when working with kids. It is really important to tap into their imagination during therapy so that they can have fun. So during my therapy sessions, I like to bring out various toys or pretend to go to their favorite place so that they are truly having fun but working hard and getting strong at the same time.
What is something you have on your wish list to achieve over the next ten years?
Over the next 10 years, I would like to further develop the aquatic therapy services here at Cheshire Fitness Zone. Being able to work in the aquatic setting the past couple of years, I have been able to see first hand how beneficial the setting is for our patient population, so my hope is to be able to create more opportunities for different therapies in the pool and I'd also like to teach more classes to patients and caregivers here at Cheshire fitness Zone, such as yoga and other early intervention programs. I really enjoy teaching these types of classes and I think its fun for the kids and it gives them something else to participate in outside of their therapy.
Stay tuned for more Employee Spotlight features to get to know the staff at driving the results at Cheshire Fitness Zone.
Interested in learning more about our services? Request an appointment using our simple online form.