Pediatric Aquatic Therapy Services
A fun and engaging type of therapy
Aquatic therapy is a fun and engaging type of therapy that uses the properties of water to achieve therapeutic gains that may be too difficult for a child to attain through land based therapy. Therapeutic gains of aquatic therapy include but are not limited to normalization of muscle tone, improvements in strength, balance, range of motion, cardiovascular endurance and circulation. Aquatic therapy can also be beneficial for self-regulation and sensory processing.
Who can benefit from aquatic therapy?
A number of different patient populations can benefit from aquatic therapy.  Some of the commonly treated populations at Cheshire Fitness Zone include:
neurological impairments
orthopedic injuries
neuromuscular disorders
cardiopulmonary disorders
chronic pain
sensory processing disorders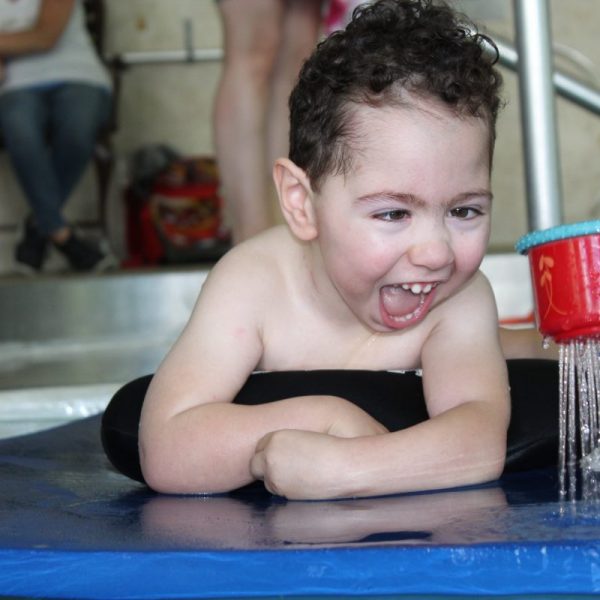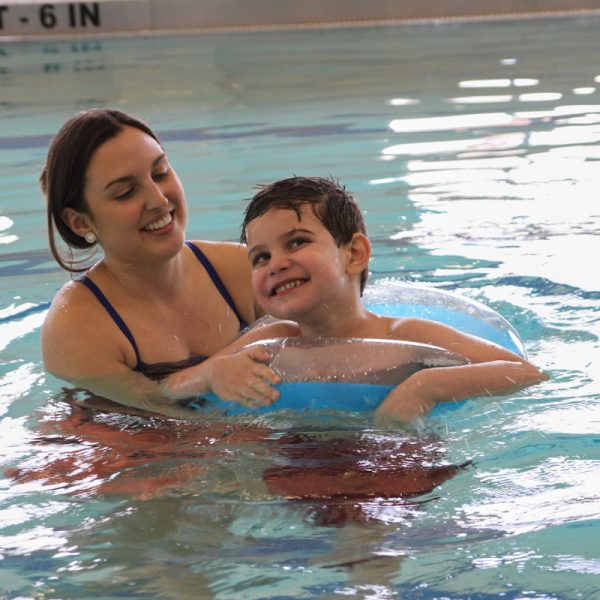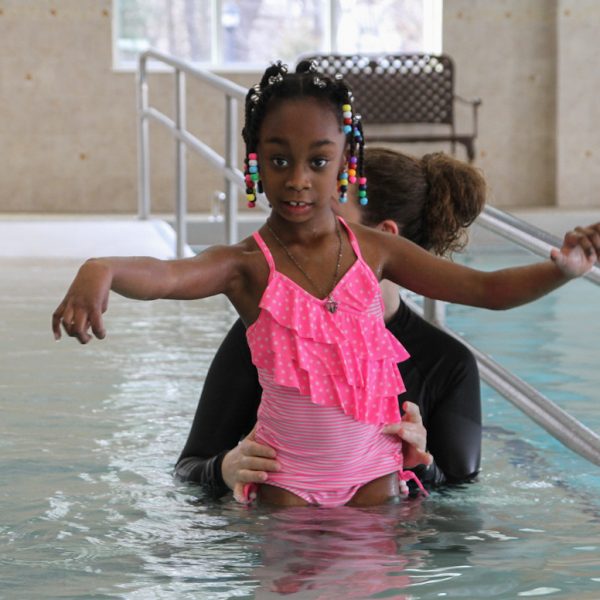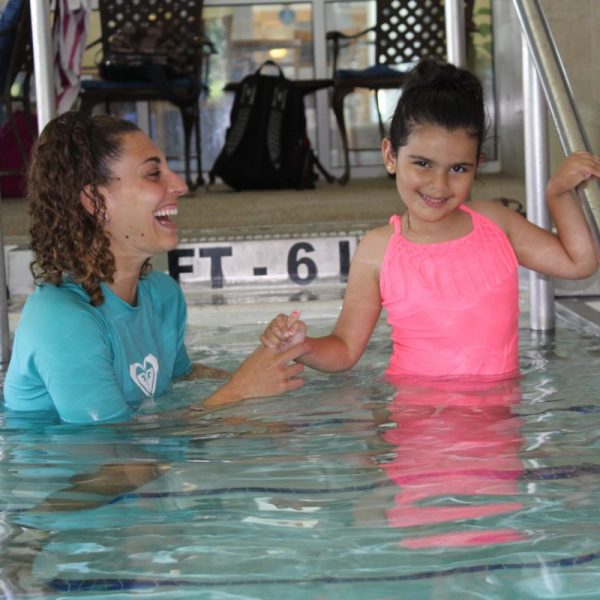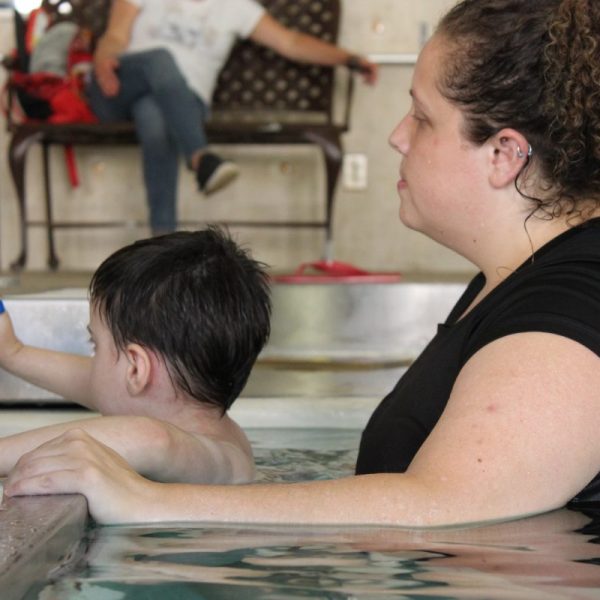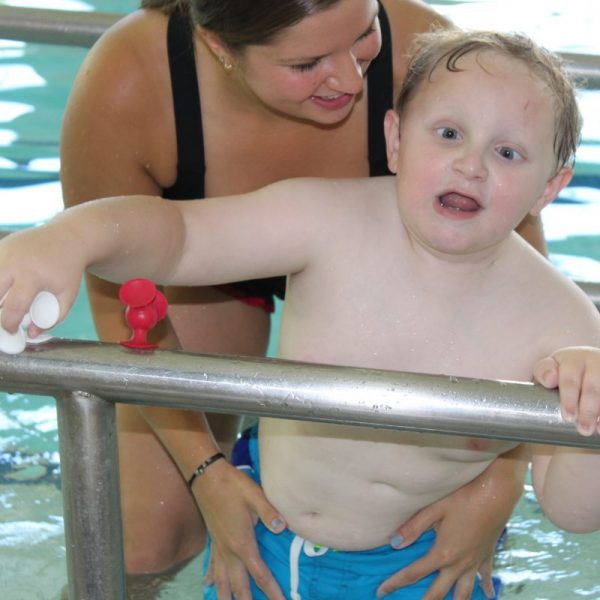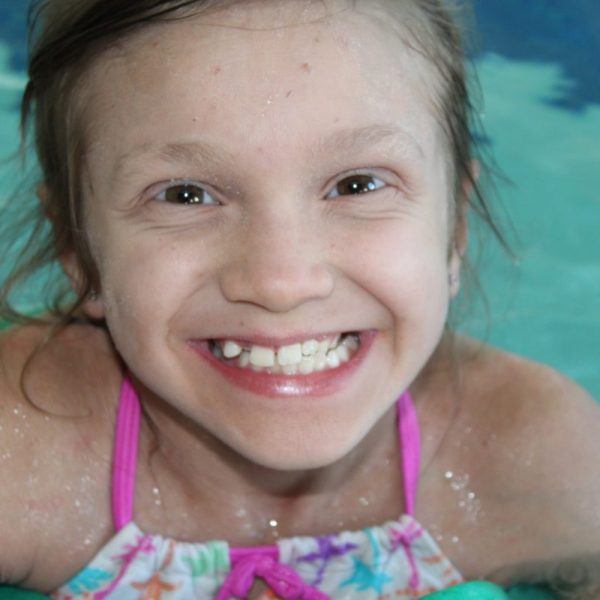 How can aquatic therapy help my child?
Buoyancy
Buoyancy can be defined as the upward force exerted by water. This assists in decreasing the amount of weight bearing through joints when submerged in the water.  As a result, buoyancy is helps to improve balance and core stability by limiting the fear of falling while still encouraging the individual to work against the force of the water to maintain an upright position.  Buoyancy can also be helpful to assist with floatation activities that are used for relaxation in order to decrease muscle tone and improve joint range of motion.
Viscosity
Hydrostatic Pressure
Temperature
Take Our Developmental Milestone Quiz!
As parents, we all want to ensure that our children are meeting crucial developmental milestones. Use this tool to see if your child is on the right track.
Cheshire Fitness Zone has been absolutely wonderful for my family. All of the staff and therapists treat the children with respect and truly care about their development. The therapists are always available to ask questions and are extremely knowledgeable. The front desk staff alway works to accommodate our schedule and are always friendly and kind. I always refer Cheshire Fitness Zone to other families who are looking for services for their children.
My girls have been going to Cheshire Fitness Zone since the summer of 2015 and the therapy they receive from their therapist is the best therapy they have ever received. The therapists are the friendliest and nicest group of therapists we have ever met. The girls enjoy going to therapy and I am very happy that we go to Cheshire Fitness Zone.
I am so happy we came to Cheshire Fitness Zone. My daughter injured her hip figure skating. Another physical therapist diagnosed and treated her incorrectly. Luckily when we came to Cheshire Fitness Zone and saw Craig he discovered her injury was something else and much more of a serious injury. In fact, we were referred to a Pedi orthopedist who concluded with Craig's diagnosis. The orthopedist said it was a good find, very difficult to catch, and often missed. My daughter had surgery and is now recovering and seeing Craig for rehab. She is almost done and doing well. Highly recommended Cheshire Fitness Zone.
My family has been blessed with this amazing crew at Cheshire Fitness Zone for almost five years. My daughter started PT at six months of age when we discovered unexpected delays. The staff from day one has gone above and beyond to help my daughter to be where she is today. They are not only extremely knowledgeable in their individual fields, but make everyone who walks through their door feel welcome and cared for. After the past five years, I consider these individuals like family. They have taught me so many ways to help my daughter and also to strive for the best and prepare for her future. I would highly recommend Cheshire Fitness Zone to anyone who needs services for their children. We appreciate it more than you'll ever know.
We have been coming to Cheshire Fitness Zone for more than two years. The therapists are friendly, compassionate, and professional. Not only do they do a fabulous job with the therapy, but they also consider the individual behavioral needs for our son. They are caring while pushing him to achieve goals that at times he might feel he can do and he does. Thank you to Craig and the staff for all that you do!
My twelve year old daughter has been seeing Craig since she was four years old and she loves coming to the 'gym.' I love that she refers to it as the 'gym' instead of therapy. She sees her therapy as a place where she works her body to become stronger and has fun. She is disappointed if therapy is canceled. The staff is wonderful and works to find the right fit with each child and therapist. They work across modalities and communicate with the school and her doctors. I am thankful to have Cheshire Fitness Zone in my daughter's life! Thank you!
I honestly can't thank you enough for all the time you spent with us and the very valuable advice that you gave.
My son has greatly benefited from OT and PT at Cheshire Fitness Zone. The therapists are so patient and knowledgeable. The facility is also very impressive and fun. We look forward to seeing our son progress as we continue therapy.
As a physical therapist at Cheshire Fitness Zone, I have seen firsthand the positive impact therapy services have had on so many children and their families. We are very family-oriented at Cheshire Fitness Zone and are constantly working with our families to help reach their goals for their children. It is an extremely rewarding feeling to see a child learn mobility skills that they were unable to perform prior to starting therapy services. The staff at Cheshire Fitness Zone is dedicated to providing the best care possible for all the children that they work with.
I love it here. They make you feel like family; they work with your schedule. Everyone in the office is very friendly. I'm here with my son three times a week and I see the differences from when he first started and he's been doing great. This place is just great with my son and with other kids I see around. I'm truly blessed to be around great people all the time.
Request An Appointment With Us Online Today