Welcome to Our Torrington Facility
Address: 157 Litchfield St. Torrington, CT 06790
Phone: 860-270-0328
Our Torrington location is a satellite location that is located within Maria Seymour Brooker Memorial. We offer Physical, Occupational, Speech, and Feeding therapy. This location is comprised of a large sensory gym equipped with therapy swings, a trampoline, and a multitude of sensory and fine motor materials. The gym has a rock-climbing wall, numerous pieces of pediatric and adolescent cardio equipment, and a large open space for therapeutic activities as well. This location also has a handful of smaller treatment rooms for speech and fine motor therapies.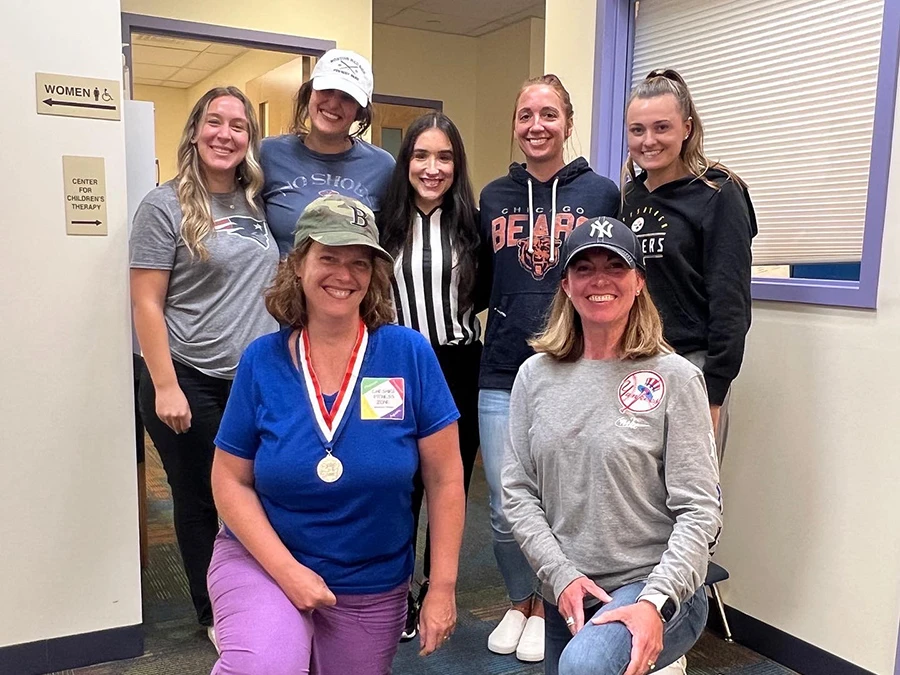 Take Our Developmental Milestone Quiz!
As parents, we all want to ensure that our children are meeting crucial developmental milestones. Use this tool to see if your child is on the right track.
Cheshire Fitness Zone provides staff at our school that understands the role of related service providers in educational settings, meet the educationally related needs of the students, and communicate well with faculty, staff, and parents. They exhibit a high degree of professionalism and state of the art physical therapy.
Thank you for teaching me everything I know about OT and sensory diets. You go above and beyond for our students and we really appreciate all that you have given us.
I love it here. They make you feel like family; they work with your schedule. Everyone in the office is very friendly. I'm here with my son three times a week and I see the differences from when he first started and he's been doing great. This place is just great with my son and with other kids I see around. I'm truly blessed to be around great people all the time.
Highly recommend. The warm, loving atmosphere sets the tone for these highly motivated therapists to do their thing. The office staff is top notch as well!!
Cheshire Fitness Zone has been wonderful. We have worked with many of the therapists for OT and PT and have had excellent experiences with all of them. They were very accommodating to our schedule. And even on a day where my son was not into working they are always able to get him to work. Their front office is very pleasant and are always smiling when we arrive. I have to bring my other son when we come and the therapists are always willing to include both of them on days where it is difficult waiting in the lobby.
Cheshire Fitness Zone has tremendously helped not only our two children receiving services, but our entire family. The atmosphere in the clinic is friendly, supportive, and understanding. Their office staff is amazing and accommodates each family's schedule and needs. Our children receive speech, OT, and PT services. Every one of the therapists they have worked with has been wonderful and our children have made incredible progress. The kids also love going to all of their therapy sessions because the therapists make each and every session fun and exciting. We are so fortunate to have found Cheshire Fitness Zone and recommend it to any family looking for services for their children.
The physical therapists at Cheshire Fitness Zone are warm, caring individuals. They have worked with my daughter for about a year and a half now and she has made tremendous progress building her core strength, coordination, balance, and overall strengthening. I recommend them highly.
My son has greatly benefited from OT and PT at Cheshire Fitness Zone. The therapists are so patient and knowledgeable. The facility is also very impressive and fun. We look forward to seeing our son progress as we continue therapy.
Cheshire Fitness Zone has been wonderful. The office staff is very welcoming and informative and the OT that my son sees has a genuine interest in my son's well-being. He always communicates well with me and makes sure to ease all of my concerns. My son loves coming to Cheshire Fitness Zone!
I am so happy we came to Cheshire Fitness Zone. My daughter injured her hip figure skating. Another physical therapist diagnosed and treated her incorrectly. Luckily when we came to Cheshire Fitness Zone and saw Craig he discovered her injury was something else and much more of a serious injury. In fact, we were referred to a Pedi orthopedist who concluded with Craig's diagnosis. The orthopedist said it was a good find, very difficult to catch, and often missed. My daughter had surgery and is now recovering and seeing Craig for rehab. She is almost done and doing well. Highly recommended Cheshire Fitness Zone.
Request An Appointment With Us Online Today