Recursos útiles para clientes y familiares
En Cheshire Fitness Zone, nuestros terapeutas y personal se esfuerzan por brindar servicios y recursos basados ​​en el valor que van mucho más allá de una sesión dentro de nuestras instalaciones. Aquí hay una lista de recursos que creemos que le resultarán útiles.
Si no encuentra lo que está buscando, contáctenos con cualquier pregunta.
Si ha encontrado un recurso que no se encuentra en la lista a continuación y cree que vale la pena compartirlo con otros, contáctenos con el enlace y evaluaremos agregarlo a nuestra lista de recursos a continuación.
PPT: El propósito del PPT es revisar la remisión a educación especial, las evaluaciones e información actuales, y determinar si se necesita información adicional para determinar la elegibilidad para educación especial.
Defensor ("advocate" en ingles"): Un defensor es un profesional en el campo del derecho. Los defensores revisan los registros escolares, los registros de educación especial, los planes 504 y las valoraciones y evaluaciones privadas; consultan con especialistas que conocen al niño y lo observan en el salón de clases; informan a los padres/tutores de sus derechos educativos.
IEP: un documento legal bajo la ley de los Estados Unidos que se desarrolla para cada niño de escuela pública en los Estados Unidos que necesita educación especial. Se crea a través de un equipo de padres del niño y personal del distrito que conocen las necesidades del niño. Los IEP deben revisarse todos los años para realizar un seguimiento del progreso educativo del niño.
Plan 504: Los planes 504 son planes formales que las escuelas desarrollan para brindarles a los niños con discapacidades el apoyo que necesitan. Que cubre cualquier condición que limite las actividades diarias de manera importante. Estos planes previenen la discriminación. Y protegen los derechos de los niños con discapacidades en la escuela. Están cubiertos por la Sección 504 de la Ley de Rehabilitación. Esta es una ley de derechos civiles.
Recomendaciones de otras familias:
Grupo de apoyo bilingüe Español/Inglés para padres y cuidadores
¡Únase a nosotros para nuestro grupo de apoyo bilingüe español/inglés de junio el martes 13 de junioa las 12, presentado por Sara Beltrán!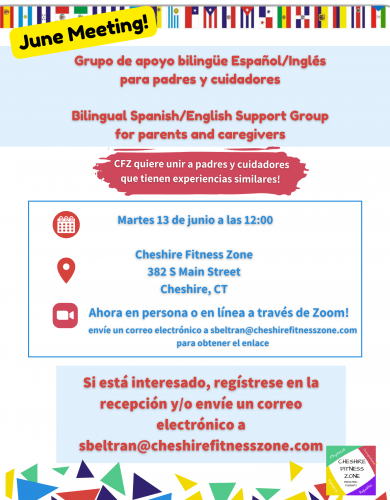 Take Our Developmental Milestone Quiz!
As parents, we all want to ensure that our children are meeting crucial developmental milestones. Use this tool to see if your child is on the right track.