Welcome to Our Orange Facility
Address: 308 Racebrook Rd. Orange, CT 06477
Phone: 203-920-1885
Our Orange location is a satellite location will offer Physical, Occupational, Speech, Feeding and Aquatic therapy. This location is comprised of two sensory gyms equipped with therapy swings, ball pits, trampoline and a multitude of sensory and fine motor materials. The physical therapy gym has a rock climbing wall, numerous pieces of pediatric and adolescent cardio equipment and a large open space for therapeutic activities. Our feeding space has a fully functioning kitchen area with various oral motor tools and our speech department is comprised of numerous private treatment rooms, equipped with treatment tools and testing materials.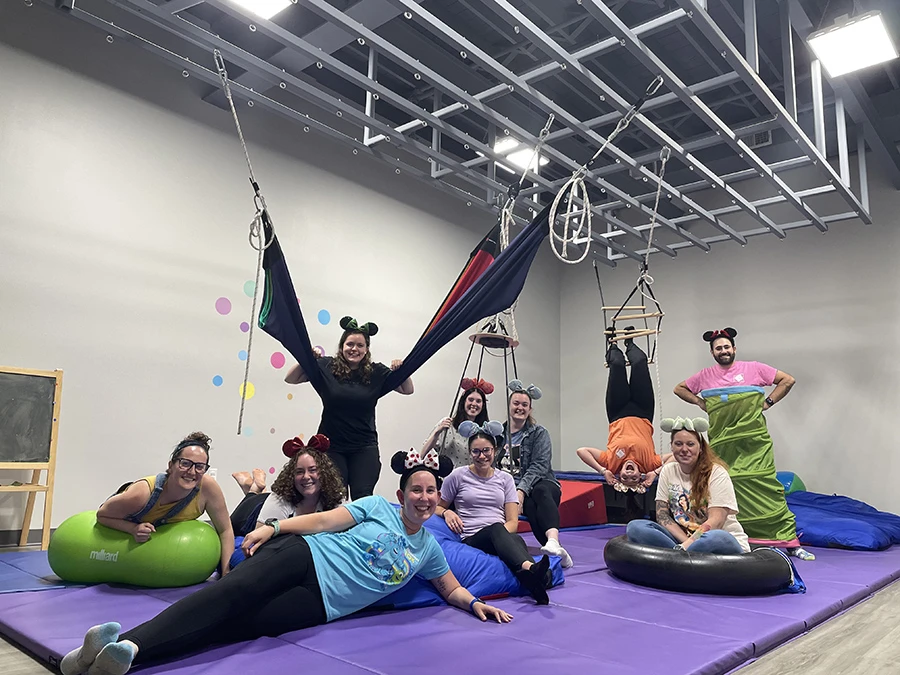 Take Our Developmental Milestone Quiz!
As parents, we all want to ensure that our children are meeting crucial developmental milestones. Use this tool to see if your child is on the right track.
Both of our sons have participated in physical, occupational, and speech therapy at Cheshire Fitness Zone. We make the forty minute trek to Cheshire three times per week because the therapists are like none other we have encountered. Our sons (4 and 5 years old) have received therapy since birth and I was so pleased to have found Cheshire Fitness Zone. Both of my kids have been challenged and nurtured by the therapists. They are so amazing with the kids and I am thankful for their dedication.
Cheshire Fitness Zone has tremendously helped not only our two children receiving services, but our entire family. The atmosphere in the clinic is friendly, supportive, and understanding. Their office staff is amazing and accommodates each family's schedule and needs. Our children receive speech, OT, and PT services. Every one of the therapists they have worked with has been wonderful and our children have made incredible progress. The kids also love going to all of their therapy sessions because the therapists make each and every session fun and exciting. We are so fortunate to have found Cheshire Fitness Zone and recommend it to any family looking for services for their children.
Cheshire Fitness Zone provides staff at our school that understands the role of related service providers in educational settings, meet the educationally related needs of the students, and communicate well with faculty, staff, and parents. They exhibit a high degree of professionalism and state of the art physical therapy.
I love it here. They make you feel like family; they work with your schedule. Everyone in the office is very friendly. I'm here with my son three times a week and I see the differences from when he first started and he's been doing great. This place is just great with my son and with other kids I see around. I'm truly blessed to be around great people all the time.
From the moment you check in at the front desk to your discussion with your therapist at the end of the session, you feel at home, respected, and in great hands. The improvements you will see in your child will say it all.
Cheshire Fitness Zone has been wonderful. We have worked with many of the therapists for OT and PT and have had excellent experiences with all of them. They were very accommodating to our schedule. And even on a day where my son was not into working they are always able to get him to work. Their front office is very pleasant and are always smiling when we arrive. I have to bring my other son when we come and the therapists are always willing to include both of them on days where it is difficult waiting in the lobby.
We have been coming to Cheshire Fitness Zone for more than two years. The therapists are friendly, compassionate, and professional. Not only do they do a fabulous job with the therapy, but they also consider the individual behavioral needs for our son. They are caring while pushing him to achieve goals that at times he might feel he can do and he does. Thank you to Craig and the staff for all that you do!
My son has greatly benefited from OT and PT at Cheshire Fitness Zone. The therapists are so patient and knowledgeable. The facility is also very impressive and fun. We look forward to seeing our son progress as we continue therapy.
My twelve year old daughter has been seeing Craig since she was four years old and she loves coming to the 'gym.' I love that she refers to it as the 'gym' instead of therapy. She sees her therapy as a place where she works her body to become stronger and has fun. She is disappointed if therapy is canceled. The staff is wonderful and works to find the right fit with each child and therapist. They work across modalities and communicate with the school and her doctors. I am thankful to have Cheshire Fitness Zone in my daughter's life! Thank you!
The physical therapists at Cheshire Fitness Zone are warm, caring individuals. They have worked with my daughter for about a year and a half now and she has made tremendous progress building her core strength, coordination, balance, and overall strengthening. I recommend them highly.
Request An Appointment With Us Online Today