Welcome to Our Pool Facilities
Address: 10 George Ave., Cheshire, CT 06410
Phone: 860-706-8904
Our Pool location offers physical, occupational, speech, and aquatic therapy. This location consists of a small sensory gym, two speech therapy rooms, and a private pool. Our aquatic therapy team offers physical, occupational, and speech therapy to treat children of all abilities.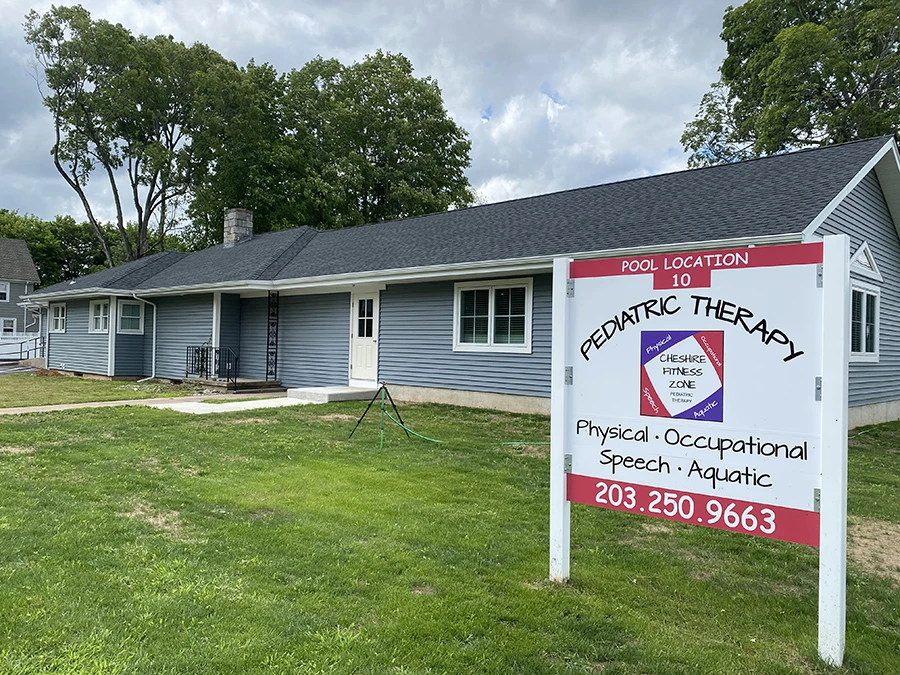 Take Our Developmental Milestone Quiz!
As parents, we all want to ensure that our children are meeting crucial developmental milestones. Use this tool to see if your child is on the right track.
My girls have been going to Cheshire Fitness Zone since the summer of 2015 and the therapy they receive from their therapist is the best therapy they have ever received. The therapists are the friendliest and nicest group of therapists we have ever met. The girls enjoy going to therapy and I am very happy that we go to Cheshire Fitness Zone.
I love working at Cheshire Fitness Zone because the therapy team is always willing to collaborate and share different treatment strategies and therapy techniques. You are never at a loss for ideas!
Highly recommend. The warm, loving atmosphere sets the tone for these highly motivated therapists to do their thing. The office staff is top notch as well!!
I am privileged to work with amazing children, wonderful families, skilled therapists, and professional staff each day at Cheshire Fitness Zone. We are a team working toward the best possible outcome for each unique child. I am so thankful to be a part of such a special place.
Cheshire Fitness Zone has been wonderful. The office staff is very welcoming and informative and the OT that my son sees has a genuine interest in my son's well-being. He always communicates well with me and makes sure to ease all of my concerns. My son loves coming to Cheshire Fitness Zone!
I am so happy we came to Cheshire Fitness Zone. My daughter injured her hip figure skating. Another physical therapist diagnosed and treated her incorrectly. Luckily when we came to Cheshire Fitness Zone and saw Craig he discovered her injury was something else and much more of a serious injury. In fact, we were referred to a Pedi orthopedist who concluded with Craig's diagnosis. The orthopedist said it was a good find, very difficult to catch, and often missed. My daughter had surgery and is now recovering and seeing Craig for rehab. She is almost done and doing well. Highly recommended Cheshire Fitness Zone.
Cheshire Fitness Zone has been wonderful. We have worked with many of the therapists for OT and PT and have had excellent experiences with all of them. They were very accommodating to our schedule. And even on a day where my son was not into working they are always able to get him to work. Their front office is very pleasant and are always smiling when we arrive. I have to bring my other son when we come and the therapists are always willing to include both of them on days where it is difficult waiting in the lobby.
I honestly can't thank you enough for all the time you spent with us and the very valuable advice that you gave.
Cheshire Fitness Zone therapists offer hope, encouragement, and creativity. They deliver on persistence, personal gains, and individual growth because they genuinely care. In spite of working on the steps to tie his shoes for over six months at a different facility, at Cheshire Fitness Zone Erin never lost hope or let him quit. Although he had no idea each week she worked on skills that when put together would tie a shoe. She approached the idea of tying many times only to be met with complete resistance and totally shutting down. Then one day he came to me after his session and said, 'Hey mom, guess what? I can tie my shoes.' When I saw the pride in his eyes and the encouragement on Erin's face I knew he had done it. It was one of the happiest moments of his childhood. What a gift…self-pride and independence.
Cheshire Fitness Zone provides staff at our school that understands the role of related service providers in educational settings, meet the educationally related needs of the students, and communicate well with faculty, staff, and parents. They exhibit a high degree of professionalism and state of the art physical therapy.
Request An Appointment With Us Online Today