Cheshire Fitness Zone's
Diversity Statement
At CFZ, we are dedicated to creating a nurturing and inclusive healthcare environment for children and families from all walks of life. Our mission is to provide comprehensive, compassionate, and culturally sensitive pediatric care that ensures every child's well-being, growth, and development.
Diversity
We celebrate the uniqueness of each child and family that walks through our doors. We are committed to embracing diversity in all its forms – from cultural backgrounds and languages spoken, to individual needs and abilities. By fostering a welcoming and inclusive space, we aim to build trust, understanding, and a strong sense of belonging.
Equity
We believe that every child deserves equitable access to quality healthcare. Our dedicated team is devoted to addressing health disparities and ensuring that each child receives the personalized care they require, regardless of their socioeconomic status, race, gender, or any other factors.
Inclusion
Inclusion is at the heart of everything we do. We strive to create an environment where all children and their families feel valued, respected, and empowered. Through open communication, collaboration, and active engagement, we work to make every child's journey as seamless and comfortable as possible.
At CFZ, we are more than just providers – we are advocates for children's health, well-being, and future. Our mission is to create a world where every child has the opportunity to thrive, regardless of their background or circumstances.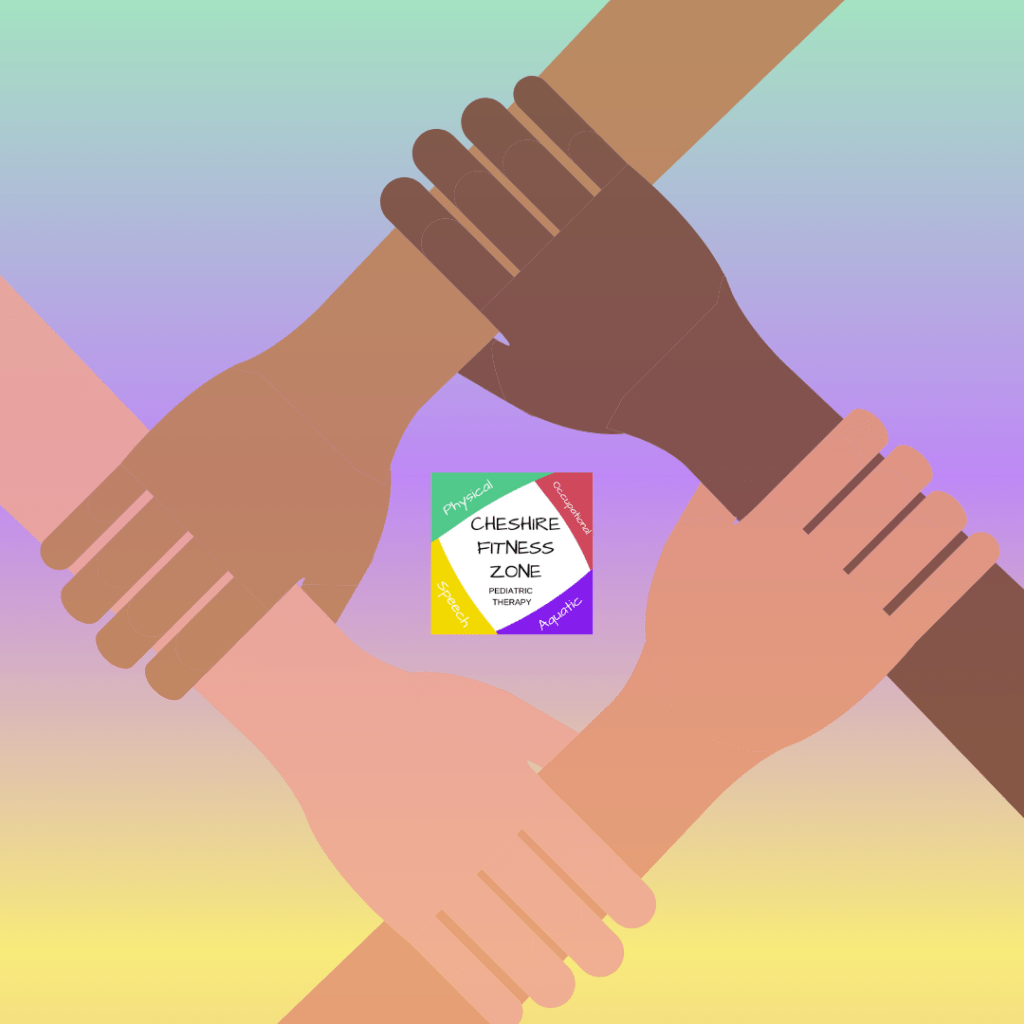 Take Our Developmental Milestone Quiz!
As parents, we all want to ensure that our children are meeting crucial developmental milestones. Use this tool to see if your child is on the right track.
Frequently Asked Questions
Our therapists and staff are here to serve your child's needs and support the family. Below is a list of commonly asked questions on our office procedures and policies. Select the +/- signs to expand and contract the question of interest. If you don't see an answer to what you're looking for, don't hesitate to contact us.
We do offer services at an out of pocket cost.  Please checkout the Insurance Plans we do accept, or contact us for current out of pocket rates.
Our therapists generally treat clients from 8:00 am until 7:00 pm, Monday-Friday, and 8:00 am to 1:00 pm on Saturday, although this does vary by location.  Morning hours do vary depending on individual therapist schedules as well as during school vacations.  Read more about our hours of operation by location.
Our primary facility is located in Cheshire but have a satellite location in Meriden and Orange, as well.  We also offer several therapy options throughout schools in the surrounding communities for your convenience.  Obtain address and/or directions to our different locations.
We have been coming to Cheshire Fitness Zone for more than two years. The therapists are friendly, compassionate, and professional. Not only do they do a fabulous job with the therapy, but they also consider the individual behavioral needs for our son. They are caring while pushing him to achieve goals that at times he might feel he can do and he does. Thank you to Craig and the staff for all that you do!
Cheshire Fitness Zone has been wonderful. We have worked with many of the therapists for OT and PT and have had excellent experiences with all of them. They were very accommodating to our schedule. And even on a day where my son was not into working they are always able to get him to work. Their front office is very pleasant and are always smiling when we arrive. I have to bring my other son when we come and the therapists are always willing to include both of them on days where it is difficult waiting in the lobby.
My son has greatly benefited from OT and PT at Cheshire Fitness Zone. The therapists are so patient and knowledgeable. The facility is also very impressive and fun. We look forward to seeing our son progress as we continue therapy.
I honestly can't thank you enough for all the time you spent with us and the very valuable advice that you gave.
I love it here. They make you feel like family; they work with your schedule. Everyone in the office is very friendly. I'm here with my son three times a week and I see the differences from when he first started and he's been doing great. This place is just great with my son and with other kids I see around. I'm truly blessed to be around great people all the time.
The physical therapists at Cheshire Fitness Zone are warm, caring individuals. They have worked with my daughter for about a year and a half now and she has made tremendous progress building her core strength, coordination, balance, and overall strengthening. I recommend them highly.
Highly recommend. The warm, loving atmosphere sets the tone for these highly motivated therapists to do their thing. The office staff is top notch as well!!
My family has been blessed with this amazing crew at Cheshire Fitness Zone for almost five years. My daughter started PT at six months of age when we discovered unexpected delays. The staff from day one has gone above and beyond to help my daughter to be where she is today. They are not only extremely knowledgeable in their individual fields, but make everyone who walks through their door feel welcome and cared for. After the past five years, I consider these individuals like family. They have taught me so many ways to help my daughter and also to strive for the best and prepare for her future. I would highly recommend Cheshire Fitness Zone to anyone who needs services for their children. We appreciate it more than you'll ever know.
I am privileged to work with amazing children, wonderful families, skilled therapists, and professional staff each day at Cheshire Fitness Zone. We are a team working toward the best possible outcome for each unique child. I am so thankful to be a part of such a special place.
From the moment you check in at the front desk to your discussion with your therapist at the end of the session, you feel at home, respected, and in great hands. The improvements you will see in your child will say it all.
Request An Appointment With Us Online Today