Summer is here!
Playing outside creates opportunities for adventure, exploration, and learning that can benefit a child's emotional and physical development.
Let's make the most of this beautiful season and encourage children to embrace the outdoors while enhancing skills and positively impacting their physical and social development.
Our Occupational Therapist Ms. Michelle Bochicchio compiled some of her favorite outdoor activities for the summertime!
In this blog, we will discuss the benefits of kids playing outside, and then show you some easy, low-cost outdoor activities for you to try with kids this season!
The Benefits of Playing Outside
Playing outside provides a large open space for children to explore and learn. Let's first take a look at some benefits that a child can experience simply from increasing play time outside!
Improves Peer-to-Peer Relationships
Social development will also help improve their peer-to-peer relationships, or a child's relationships with other children.
Children that play outside are more self-aware and have an increased awareness of others' feelings.
Playing outside with other children will help a child learn respect and empathy for others. As they play with other kids, they will learn vital skills such as taking turns and sharing!
While playing outside, kids are more likely to engage in teamwork and be imaginative which allows them to have more positive interactions with others. The outdoors and sunshine also help improve overall mood, making their social interactions more pleasant! 
Increasing a child's outdoor play will also positively impact their cognitive development. As children explore the new outdoor environment, they will be exposed to new experiences.
This includes different parts of nature, like interesting plants, bugs, and animals. They will also get to experience weather and seasonal changes!
These new experiences will allow a child to be more creative and imaginative and help them engage in new and unique conversations and storytelling.
Easy Outdoor Activities for Kids!
Nature Sensory Scavenger Hunt
Kids will get excited about the wonders of nature during a thrilling scavenger hunt! A scavenger hunt can be a very low-cost activity, or completely free depending on what outdoor objects you choose to utilize.
You can create a nature scavenger hunt for children by making a list of items they can find outside, including smooth rocks, flowers, and butterflies. The possibilities for what you choose to be a part of your scavenger are endless!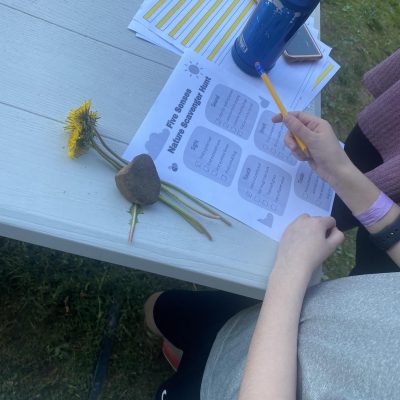 A nature five senses scavenger hunt is a free way to engage kids outside! This activity will focus on finding something specific for each of the five senses, sight, hearing, touch, taste, and smell.
Sight:
Green Leaves
Yellow Flower
Smooth rocks
A small bug
Touch:
A crunchy leaf
Rough tree bark
Soft grass
Smell:
A Sweet flower
Scented Herbs
Earthy smells
Fresh smells
Hearing:
Rustling Leaves
Crunching sounds
Birds Singing
Buzzing bugs
Taste:
Find something an animal might eat
Find something a bug might eat
This kiddo had a blast searching for everything! We didn't go far, we did this right outside of our building. 
The nature scavenger hunt can be modified to be done almost anywhere!
Frozen Object Sensory Play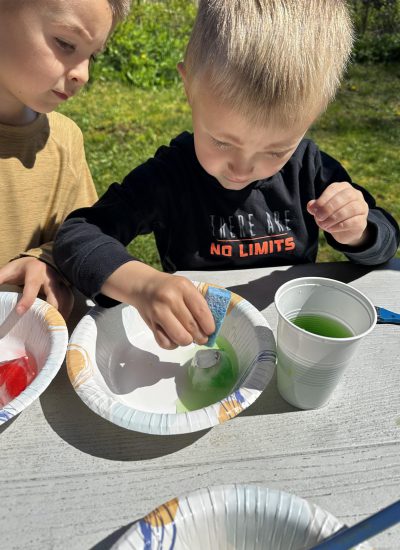 Frozen Object Sensory Play is another easy, low-cost way to create a sensory game for a child!

This activity can be easily achieved with water and small items of your choice, such as tiny toys or plants! A child will be intrigued trying to discover how to get the object out of the ice cube.
You can allow the child to use warm water, spoons to chisel, or even salt to experiment getting the object out of the ice.
What you will need:
-Ice Cube Tray
-Small Items to freeze (Legos, tiny plastic animals, leaves, flowers, buttons, pompoms)
-Water
-Food Coloring (Optional)
-Utensils such as spoons (Optional)
-Warm water (Optional)
-Salt (Optional)
Modifications:
-Utilize a paint brush and warm water to "paint" the ice and watch it melt
-Use a spray bottle and warm water to melt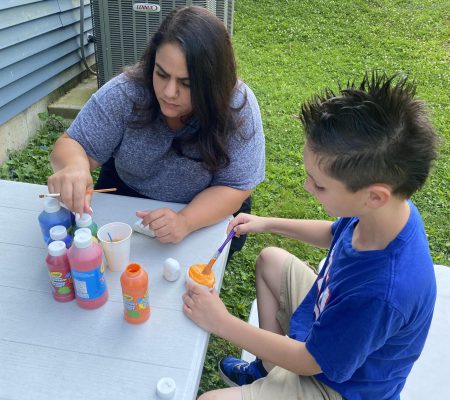 Rock painting is an easy, low-cost art project for kids!
Kids can go on a hunt for different rocks they would like to paint. Rocks that work best as small canvases are smooth, round or oval rocks. However, any rock will do!
Next, the artistic possibilities are endless. You can paint colorful designs to leave outside or decorate around the house.
You can paint anything you want! Encourage kids to get creative and help them plan a design. For example, this could be flowers, rainbows, or hearts! 
Adults can help kids paint their names, positive sayings, or other small messages on the rocks!
What you will need:
Rocks
Washable or acrylic paint
Paintbrushes
Cup of water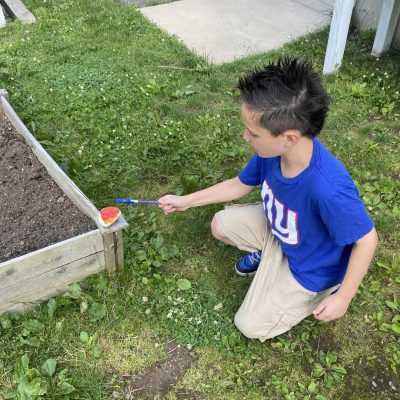 This kiddo got creative and wanted to try splatter paint on his rock! He had a blast splattering the different colors.
This activity is great because it gives the kid a lot of freedom to be creative, and experiment in different ways. He was super happy with his results!
Summer offers endless opportunities for children to go outside to play! With these outdoor activities, you can inspire kids to explore, observe and appreciate the natural world while fostering their curiosity and creativity.
When children spend more time outdoors, they can also experience benefits for their mental and physical development. So, get outside and plan some easy and fun outdoor activities this summer!