Pediatric occupational therapy is a field of physical therapy that helps children to overcome injuries or developmental deficits in motor development, sensory perception, or other executive functions. This is done in order to empower them to perform the activities or "occupations" of daily life with confidence.
At Cheshire Fitness Zone, we've always believed that a child's primary occupation is play. That's why our therapeutic approach emphasizes integrating developmental exercise with sports and other games.
For many children, puzzles in particular offer tremendous opportunities for effective occupational therapy.
The Benefits of Puzzles for Childhood Development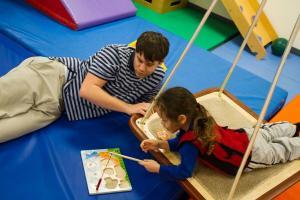 As adults, we may not think of puzzles as particularly challenging. For many children, however, they can be quite demanding—especially in areas where they're still developing. Puzzles offer great exercise for strengthening and refining skills in these areas.
The benefits of puzzles for childhood development can be sorted into three main groups:
Cognitive Benefits: Puzzles are games of problem-solving. Puzzles teach and strengthen visual processing, perception, organization, sequencing, concentration, and more.
Physical Benefits: While most puzzles don't offer a strenuous workout, they do require fine motor coordination and controlled use of the upper extremities. This is true of jigsaw puzzles, wood peg puzzles, and even crosswords or written puzzles that require handwriting skills to complete.
Emotional Benefits: Puzzles also help to teach patience and self-confidence. Solving a puzzle takes time and effort, and a completed puzzle offers a sense of pride in one's accomplishment, especially in kids.
Using Puzzles for Pediatric Occupational Therapy
Given the benefits above, puzzles are a natural fit for pediatric occupational therapy.
Here are just some of the ways that puzzles may be used in pediatric occupational therapy:
Occupational Therapy for Children in Connecticut
Could your child benefit from occupational therapy or puzzle therapy? Some signs to watch for include poor coordination, misbehavior in school, difficulty with handwriting or self-feeding, difficulty sustaining attention to age-appropriate tasks, and more.
If any of these signs sound familiar, consider a visit to a pediatrician or other professional as soon as possible. You may be referred to an occupational therapist.
If you're looking for a pediatric occupational therapist in Connecticut, look no further than Cheshire Fitness Zone. Conveniently located in Cheshire and Meriden, Cheshire Fitness Zone offers occupational therapy services based on custom, personalized interventions. We include parents/guardians in everything including evaluation, treatment planning, and working with their child for optimal outcomes.
Learn more about our pediatric occupational therapy services, or fill out the form below, and we'll get back to you within 48 hours.