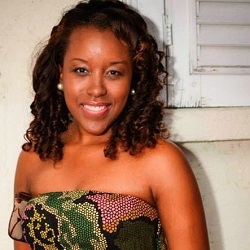 Shareka Bentham is a speech and language therapist with EasySpeak Enterprises. Here she works particularly with young children struggling with communication or difficulties swallowing, but also with adults suffering with brain injury. On top of that she's a fitness instructor, an avid traveler, a big presence on Twitter and a photographer! Who knows where she finds the time…
In short, Shareka has a ton of experience and expertise in the fields of fitness, speech and language and rehabilitation. We interviewed her to see what pearls of wisdom she could impart…
Q1. Hi Shareka, thank you for agreeing to answer some of our questions. Could you please tell us a little about what you do as a speech and language therapist? What does the job involve?
I assess and provide intervention for children and adults with a range of speech/language, social communication, and feeding/swallowing difficulties. My caseload includes (but is not limited to) late talkers, children with autism, down syndrome and other developmental disorders, as well as adults who have had stroke or other types of brain injury.
Q2. Can you tell us about #slpchat?
#slpchat is a monthly chat on twitter which my colleague, Tanya Coyle, and I created to allow other professionals to come together on social media and discuss various topics and current trends within the field of Speech Pathology. It is a great tool for professional development and networking from the comfort of your home.
Q3. You're also a group fitness instructor. What kind of workouts do your sessions involve?
My main class is called "Dibby Fit,"which is a high energy dance based aerobics session to the music of the Caribbean. It's a fun way of keeping active. I also teach step aerobics, cardio blast- which is a combination of cardio exercises and body weight exercises; and body blast circuit- which incorporates training with free weights, kettle bells, and resistance bands.
Q4. If you could give one piece of advice to someone looking to start losing weight and getting into shape, what would that be?
You need to understand that it requires a full lifestyle change which involves a healthy balanced diet as well as regular workouts on a consistent basis. There is no quick fix for getting in to shape and staying in shape.
Q5. What are some of the most common exercise-related injuries you see and how do you advise people to avoid them?
The most common in aerobics is sprained ankle, which is why I emphasize proper form at all times at the beginning of every class. It is easy to get carried away and forget about form when you're having fun with an exercise but making sure you step right, land right and remember the required position of your body you can avoid injury. It is also important to know your body's limits and not try to overdo when trying to keep up with the class.
Pulled muscles are also common in fitness, and the advice for that again is to listen to your body and know its limits. Pushing yourself to the point of pain is not the way to workout. That is one thing I learned the hard way on my fitness journey, so I always share with others.