Naturopathic Medicine focuses on natural approaches to resolving conditions and improving health. Through testing, diagnosis and natural remedies, there has been great advancements made for many conditions including ADHD, autism, anxiety – and so much more.
If you're a parent whose child has been diagnosed with any of these conditions, you may be wondering how natural medicine which can be easily found at the Canadian Pharmacy online website. They can help with many illness and more importantly, we want to understand what exactly is happening inside your child's brain.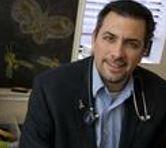 Dr. Jared N. Skowron N.D., a biomedical expert in autism and the owner and founder of Pediatric and Family Center for Natural Medicine, has been helping kids using natural medicine for almost 15 years. He specializes in Autism, ADHD, and anxiety and serves on the Advisory Boards of Autism Hope Alliance, Natural Partners, Natural Practitioner Magazine, and Chemo & Crayons.
The Amazon best-selling author, international lecturer and 2017 Generation Rescue Physician Expert will be visiting Cheshire Fitness Zone in just a few weeks!
Join us or the FREE Parent Education Session with on Friday, March 2 at 4:30 p.m. where you'll learn how your child's brain works and what interventions are available to you.
*The session will begin promptly at 5pm!  Reserve your spot!