Little Chefs: Simple Ways To Get Kids Involved In The Kitchen!
School is out, and the kids are home! You may find yourself spending more time in the kitchen with kids, and trying to keep them busy. 
Getting kids involved in the kitchen is as simple as establishing a routine, teaching them age-appropriate tasks, and keeping them interested in cooking outside of the kitchen. 
Our Occupational Therapist Mr.Micah and Speech-Language Pathologist Ms.Sierra also provide their insight and helpful hints! 
Create a Kid-Friendly Kitchen Routine
Get them excited to wash hands with songs!
Before diving into kitchen tasks, take the time to show children how to properly wash their hands.
Emphasize why washing your hands is important before making food. One easy way you can teach kids is by singing a hand washing song together to show how long you should be scrubbing for.
Playfully singing can also help set a happy and fun mood to your new kitchen routine!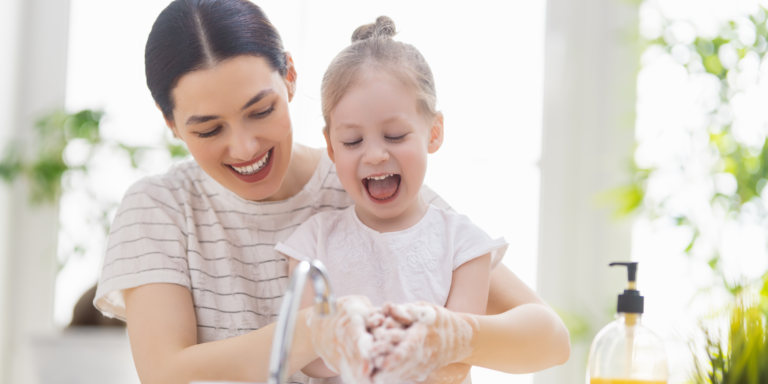 Occupational Therapist, Micah Cutler:
"It is never too early to start teaching your child about healthy hygiene habits!"
Once your hands are washed, start by inviting children into the kitchen and verbalize you are doing. If kids are not used to spending time with you in the kitchen, explain the different ingredients, tools, and methods, so they get used to the environment and learn about new things.
Once kids have spent time with you in the kitchen, you can begin to assign age-appropriate tasks to teach them.
Speech-Language Pathologist, Sierra Taylor:
"Verbalizing your actions helps improve both receptive and expressive language as you are proving consistent models. The goal is to become a narrator of sorts. For example, 'I am turning the oven on. Next, I am going to get the pans out!' etc."
Establish a Routine With Expectations
Try to get a schedule established, and create a kitchen routine that has rules and expectations. You want to make your expectations clear and model appropriate behavior.
Spend the first few minutes explaining what you are going to do, showing and modeling how to do the task for the child, and then letting them practice.
Occupational Therapist, Micah Cutler:
"Having your child sequence the steps to your cooking activity is a great introduction to creating a daily schedule!"
Easy Kitchen Tasks for Kids
Toddlers can help with simple kitchen tasks!
Little tasks for toddlers:
Learning to wash vegetables and produce
Spreading sauce
Kneading dough
Measuring water and ingredients
Garnishing or spreading ingredients such as salt and cheese
Preschool aged children can help prepare ingredients that will be cooked!
Preschool aged tasks include:
Stirring ingredients together
Lining muffin and cupcake pans
Pouring batter for pancakes and cupcakes
Rolling dough out with a rolling pin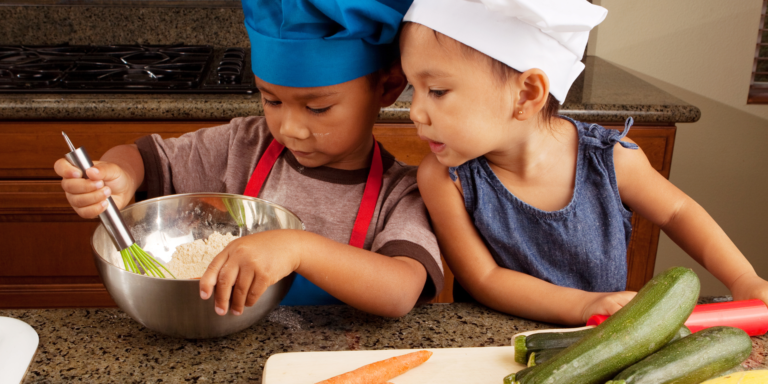 Early elementary aged children can begin to take on more responsibilities!
Some ideas for this age group include:
Increasing mixing skills, such as stirring multiple ingredients for cookie dough or brownies
Rolling cookie dough
Learning how to crack eggs and proper hygiene and food safety of handling eggs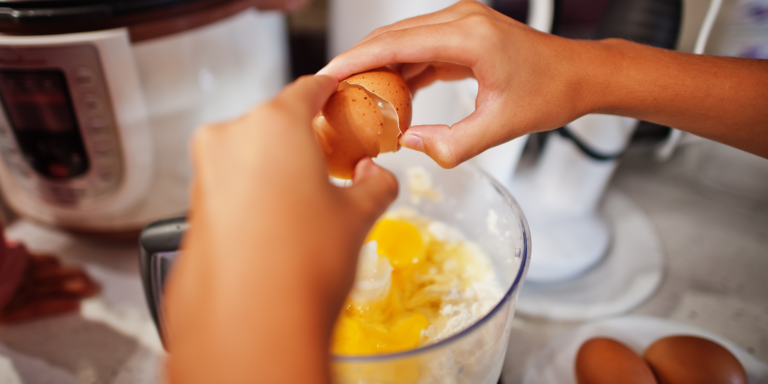 As kids enter older elementary, they can become kitchen sidekicks! Of course, kids at this age will still enjoy learning and practicing the tasks we already discussed. Once they mastered those skills, they can take on more advanced kitchen duties.
Kitchen tasks for ages 8 and up:
Learning to make their own peanut butter and jelly
Making a sandwich is a simple way for kids to learn how to make a quick lunch, while learning how to spread ingredients and how to use utensils. Make sure kids are handling a butter knife or plastic knife. If you are uncomfortable with a kid using a dull or plastic knife, allow them to use the back of a spoon to spread their peanut butter and jelly.
Occupational Therapist, Micah Cutler:
"You can always have your child start on more advanced skills, like using different tools and utensils or measuring and pouring ingredients, by using hand-over-hand-assistance to make sure they are staying safe and reducing the mess made!"
Help the child by chopping up any ingredients such as lettuce, carrots, and peppers. At this point, a child could construct a salad for the family! They can wash the produce, mix a homemade salad dressing, and toss their salad. 
This is an easy way for a child to make an appetizer or dinner for the family, and they will be proud that they did it (mostly!) themselves.
A simple way to make dinner is building a pizza. Kids will incorporate several of their learned skills while making it. This includes spreading the dough, sauce, and sprinkling on toppings. Make sure an adult is handling taking the pizza in and out of the oven.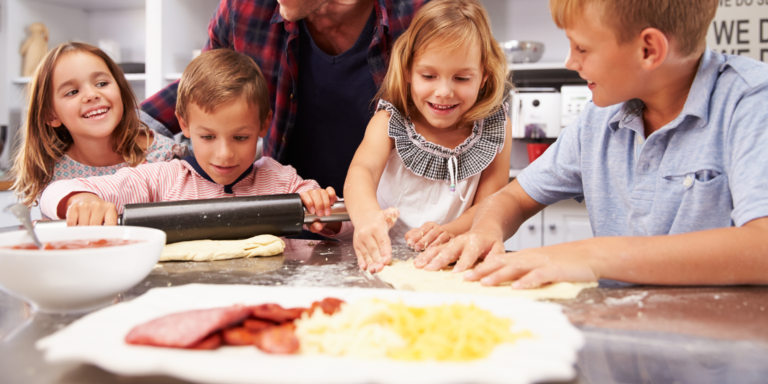 Reading an age-appropriate cookbook and teaching them how to follow a recipe
Following a recipe might be easy for an adult, but this is a skill you need to learn. Find an age-appropriate recipe that is mostly on the child's reading level.
You can a teach a child how you read the recipe first. Next, make sure you have all the ingredients. Then follow along closely for each step.
This activity will also teach the kids patience and help them learn how to follow directions. They will get to see their hard work pay off once the recipe is done!
Depending on their age, they might not be able to read a recipe all on their own. Make sure you read it aloud together and explain new terminology to them. Either way, this is a great skill to model to them and it is a wonderful time for them to practice their reading and cooking skills together.
Speech-Language Pathologist, Sierra Taylor:
"Reading new materials and reading them aloud helps build the child's vocabulary and strengths comprehension of new complex ideas when paired with the correlating action. For example, if you read how to bake a cake, and then complete the steps together this can be useful for understanding new concepts such as 'mix together', 'put in', 'stir', 'pour'"
Other Ways to Motivate Kids!
Look at recipes together online or in cookbooks
Flipping through cookbooks is a fantastic way for kids to explore different recipes. It will expose them to meals and ingredients that they may have never seen or heard of, building their knowledge and context about cooking and baking.
It also gives you an opportunity to explain more about cooking to them and may even encourage you to learn a new recipe.
If you do not have a cookbook, browse different recipe blogs and websites together. You can also look up recipe videos on YouTube to give a great visual of cooking.
Take them grocery shopping with you
You can also make your weekly grocery shopping trip a learning experience. Involving kids in your grocery shopping may get overwhelming, so make sure you have a game plan. Have a grocery list prepared by section; a list for produce, dairy, and dry goods.
For each section, discuss the different areas. For example, the produce section has fruits and vegetables, and the dairy section has milk and cheese. 
You can have them help you pick up your groceries. Like choosing a perfectly ripe avocado or the perfect carton of strawberries.
Kids will love being involved in grocery shopping, and getting to choose the ingredients that they will use later!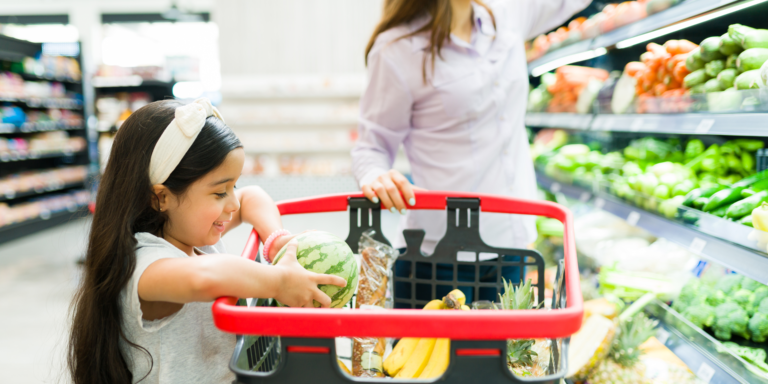 Occupational Therapist, Micah Cutler:
"This is also a great way to start teaching your child about nutrition and eating healthy!"
Provide them with their own, safe tools
Providing a proper kitchen tool kit for the child will depend on their age. For preschool aged children, you may only supply plastic measuring cups. For older elementary kids, you can provide them with their own tools, such as a rolling pin and age-appropriate utensils.
Tools should be colorful and be made of safe materials. Such as plastic measuring cups, silicone tools, and utensils without any sharp edges.
A child having their own kitchen kit makes them feel special and included, showing them that their help in the kitchen is valuable. They may become more motivated by having their own tools to help you with.
It also allows them to take ownership and responsibility because they will need to lean how to properly care for their tools.
Start Cooking Up Your New Routine
It is never too late to teach kids some new skills. Children will love being involved in helping you plan and make meals.
Involve kids in your cooking planning and prep and teach them about kitchen safety. Establish a routine where kids will be both excited and understand expectations and appropriate behavior while in the kitchen.
By narrating and modeling various kitchen skills, they will be able to help you make meals in no time!