DEVELOPMENTAL PLAY: Chapter 3
Helping your child learn and grow starts at a young age by interacting and playing with them. Follow along with Maddie to learn some fun playtime activities that you and your child can perform together!  
*Please note the information described in the "What to expect" sections represent an average timeframe of when specific gross motor skills are achieved. Every baby is different and will have a different developmental timeframe. Please use this as a guideline for your baby's developmental skills and a way to help encourage skills through fun playtime activities. Always reach out to your pediatrician if you have any specific concerns about your baby's development.  
What to expect:
Baby will demonstrate a variety of sitting positions (ring sitting, side sitting, sitting with one leg bent and one leg straight)
 Baby will begin to move forward on their belly (commando belly crawl). They will use their arms and feet to propel them forward
Baby will begin transitioning from sitting to side sitting
Baby will begin transitioning from side sitting to hands and knees. They will begin to rock in the hands and knees position to help prepare them for crawling on their hands and knees (belly off of the floor)
Baby may begin reaching up to elevated play surfaces and play on their knees or attempt to pull to stand at furniture
How to play with your 7-9 month old baby
Variety of sitting positions
Ring Sitting (heels together/towards each other)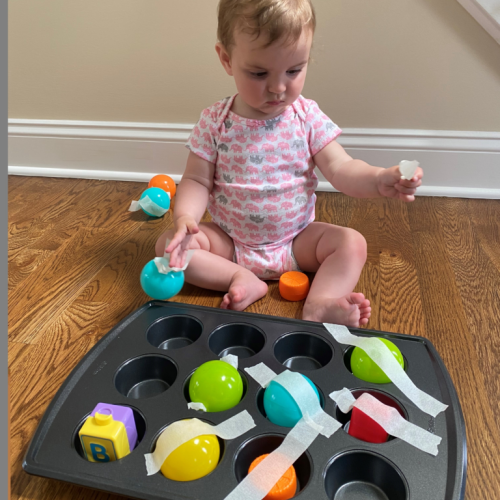 Side Sitting (one leg bent inward and one leg bent outward)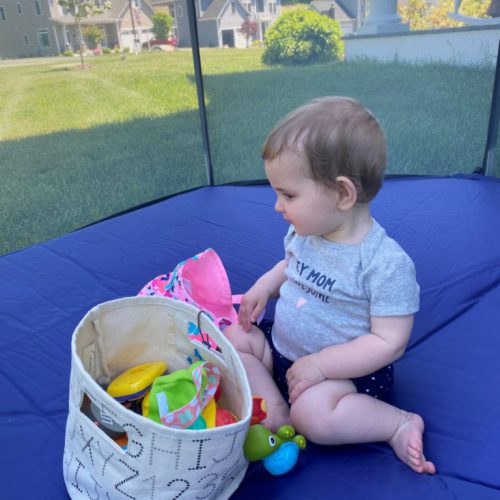 Modified Long Sitting (One leg bent inward and one leg bent outward)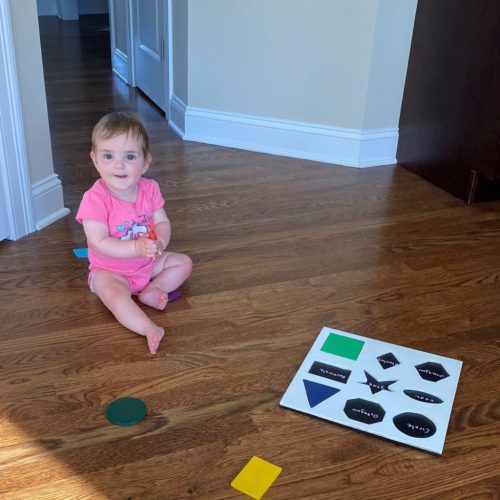 Long Sitting (both legs out straight)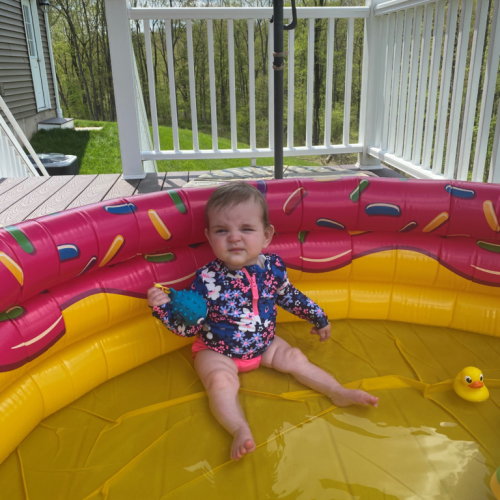 Belly Crawling (commando belly crawling)
 Once baby is moving forward on their tummy, you can help them in strengthen their arm and leg muscles to prepare for crawling on hands and knees by having them crawl over raised surfaces within their path or crawling across compliant (soft) surfaces such as a couch cushion or pillow. Being on a compliant surface makes babies' arms and legs work harder as their extremities "sink" into the soft surface.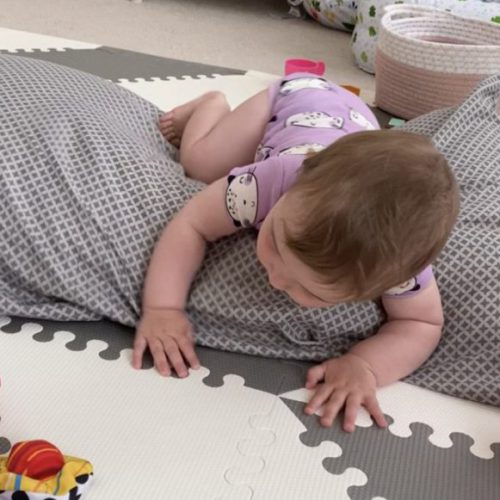 Side Sitting
Side sitting is a very important skill because it is what helps baby transition from sitting to hands and knees when they are ready to begin crawling forward.
At first, practice side sitting with hands elevated on a surface such as a couch cushion, low basket, or push walker toy. 
Once they can side sit with their hands on an elevated surface, move to placing their hands on the floor. Have them interact with books on the floor so that they can feel and play with the texture of the books.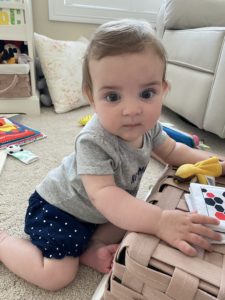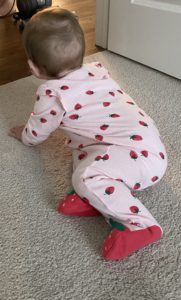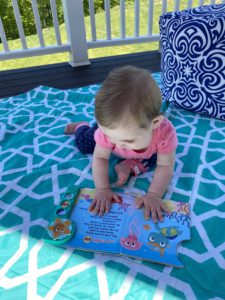 Tall Kneeling
Kneeling is a great activity to perform with baby to help improve arm, core, and leg strength. It will help them prepare for crawling on their hands and knees. 
Perform at a low surface to start such as a couch cushion to help work on improving baby's arm strength as they begin to push through straight arms
Perform at a higher surface such as a turned over laundry basket to get them to activate their core muscles more as they try to keep themselves in an upright posture.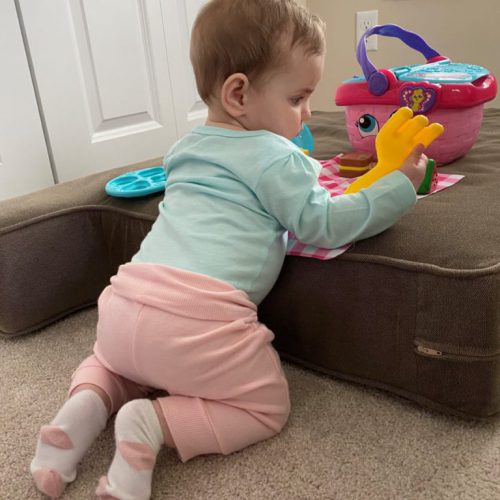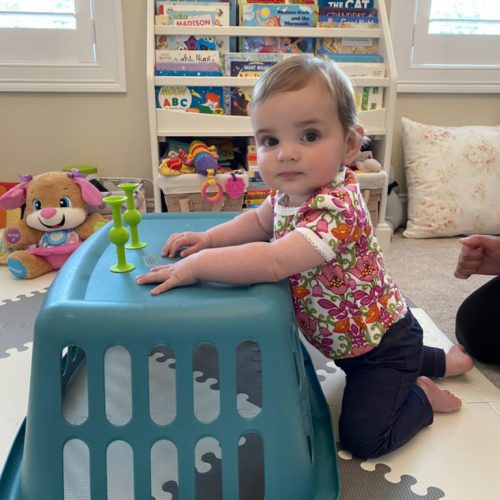 Supported Hands and Knees (quadruped)
This activity is a great way to strengthen your baby's arms and help them prepare for crawling independently. You can start by having them perform this skill with a pillow or your leg under their stomach/chest for support. 
Place toys at eye level (i.e. books, light-up toys on an elevated surface) when they are in this position to encourage them to push through their hands so that their elbows are straight and so that they can lift their head. A mirror with or without suction cup toys is also a great place to try this activity so that they can see and interact with themselves and you. 
Birth-3 Months
4-6 Months
7-9 Months
Birth-3 Months
4-6 Months
7-9 Months